Ski touring

Feb 25 - March 4 2018 or on demand

Shemshak area - Polour Mountain - Touchal
The Alborz mountains contain several peak over 4000 m and its highest peak is Mt Damavand (5610 m).The program is flexible and will give you 6 days of backcountry skiing. As always we look for the best snow conditions and weather when planning the week. The main destination for touring are Polour mountains and the Shemshak and Dizin Area.
DAY1:
Meeting at IKA Airport and transfer to Shemshak. Check-in at Hotel Shemshak. Lunch & then – depending on the timing – we go for a few nice run of skiing around Shemshak.
DAY2:
Start in Dizin the largest ski resort in Iran. This area has a long season , it is possible to ski from November to May. We can use one of the most nostalgic gondolas in the world and go off piste skiing from the top. With a short ski touring we will ski down to the Dizin village. Go back with a taxi.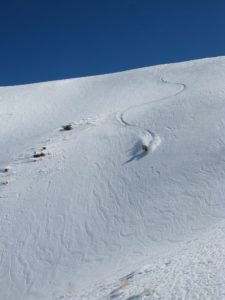 DAY3:
Touring and skiing around Dizin.
DAY4:
Exploring Shemshak ski resort and some steep lines. Shemshak is the second largest ski resort in Iran and was founded in 1958. The terrain is steeper than Dizin.
DAY5:
Heading to the Lasem village in the Polour mountains and touring to the 4000 m peak near Damavand . Then come back to Tehran and dinner in Tehran

DAY6:
Going up to the 5th highest skiing resort in the world, Tochal. Starting from Tehran you will enjoy an amazing cabin ride above the crowded city of Tehran. From the top, on clear sky you will be able to make a few turns above the city, before skiing for a very long run on the north side of Touchal. Back with a taxi to Tehran.
DAY7:
Tehran sight seeing.
Transportation to IKA during the night.
DAY8:
Notes:
During the bad weather day we are able to ski at Shemshak or Darbandsar ski resorts.
Material:
You need to bring your touring and safety equipment (transiver, showel, probes, …)
group of  2-4 : 1850 €
group of 5-8: 1650 €
Meeting place:
IKA Airport Tehran
 Trip duration :
8 days
Accommodation :
Shemshak Hotel (Shemshak) & Baloot Hotel (Tehran)
Included:
– expert ski guide
– accommodations (Hotels with breakfast , price based on staying in a double room, single room can be arrange with additional price)
– lunchs
– ski passes
– transportation
Not included:
– flights to/from Tehran
– dinners and drinks
– insurance
– visa & application fees